How To
Final Checks Before Printing Show Coop Cards & Judging Cards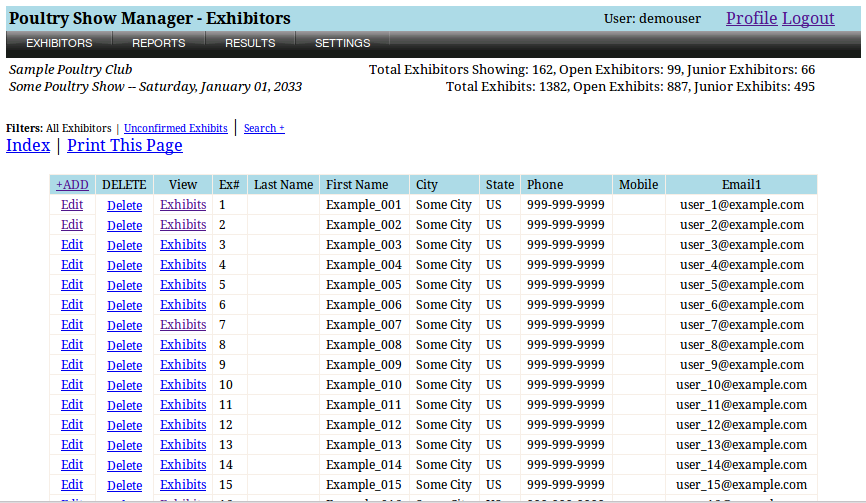 If the earlier steps were followed, then the show information should be relatively error free already. The following steps will allow you to have the confidence to print, knowing that every exhibit registered, will have a coop card and associated judging sheet. The software will print the information in the system. These checks will make sure everything matches.
Common entry errors: Bantam enter as Large Fowl or Junior Show entry entered as Open Show.
IMPORTANT: Double check spelling of the exhibitor's names.
Do each of steps 2 - 5 for both the open and junior show.
Step 1 – From the reports screen, print the Exhibitor Entry Summary for the Open and Junior show.
Step 2 – With the registration book you created earlier, total the entire books grand total of entry numbers. This should match the grand total on the Exhibitor Entry Summary. Whether it matches or not, go line by line and page by page making sure everything matches the summary. This can be done quickly if one person is reading off the numbers on the summary and the other is looking at the book.


Step 3 – If there are corrections to be made mark the entry and continue checking. Tagging the entries in the book with "Post-It" and marking the summary is a good method.
Step 4 – Once completed with all entries, make corrections.
Step 5 – Repeat Steps 1 - 5 until no mistakes are found.
Step 6 – Print and Check Exceptions Report
Before Printing - Exceptions Report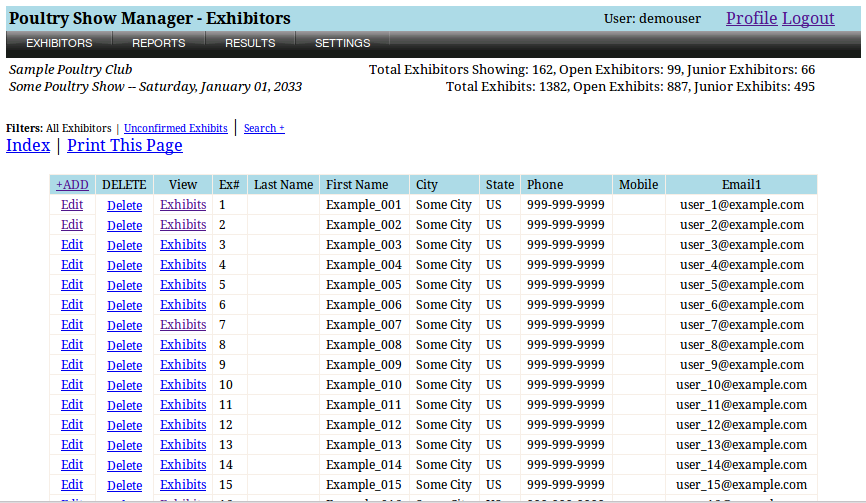 The Exceptions Report will provide the show secretary information that may still need attention before printing the coop cards and judging cards. The Exceptions Report will list Non-Recognized Breeds, Non-Recognized Varieties, items that were marked to check later, double coops, trios, displays, etc.
Step 1 – From the reports screen, print the Exceptions Report.
Step 2 – Look over the exceptions report for entries entered as NRB or NRV do not have a recognized breed or variety that they belong in. Check that double coops are entered correctly. Review entries that were marked to check later. Make corrections. Repeat steps 1 & 2 until everything is acceptable.


Step 3 – Create the show files and Print the Coop Cards, Judging Cards, Exhibitors List, Census Reports and any other reports wanted on hand.
LOCK THE DATABASE
Once are the final checks have been completed, lock the database and treat all new information as changes that will be corrected when completing judging cards. If the data needs to be unlocked it can be, but it is not recommended once the final reports are printed. Both locking and unlocking is edited in the Settings Screen.